From the HOME page Click any of the section photos below to view the section items. Thanks! <><
Or Click https://www.christiecottage.net/ to view all iems.
Thanks!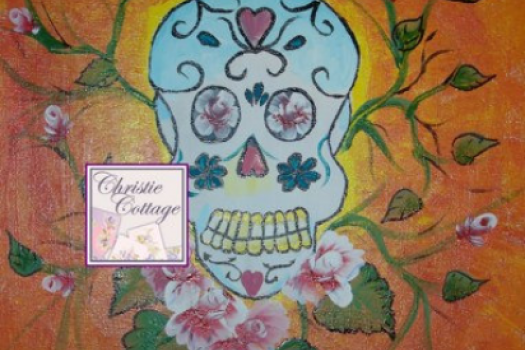 ACEO Sugar Skull, ATC, Art Cards Edition
ACEO Sugar Skull, ATC, Art Cards Edition
Details
ACEO .
The original painting is no longer available.
Measure 2.5" x 3.5" Art Cards Edition or Originals also known as ATC Art Trading Cards.
This ACEO is printed on glossy premium photo paper and is perfect for a small gift in a birthday card or to an ACEO Collector, or you can even have him framed.
An affordable way to be an art collector.
The LOGO will not appear on ACEO

©Christie Cottage - ALL RIGHTS RESERVED - not for reproduction or copied.
Use for intended use only.
Inspiration/Story Behind This Product
I love sugar skulls and someone very dear to me does too. The original painting was for her.
Materials Used
Ink, premium photo paper
Great gift idea
Product Attributes
Primary Material: Print
Size: Small
Pattern: Sugar Skull
Color: Orange