ALL Christmas items are on SALE 1/2 OFF. Prices marked.
From the HOME page Click any of the section photos below to view the section items. Thanks! <><
Or Click https://www.christiecottage.net/ to view all iems.
Thanks!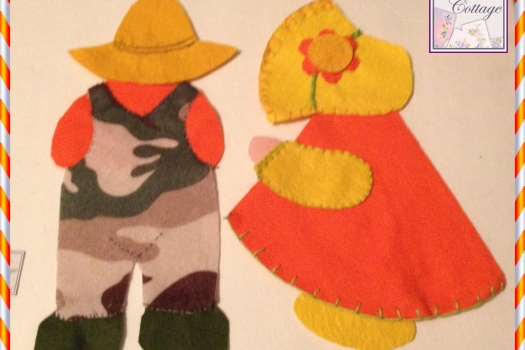 Sunbonnet Sue and Overalls Sam, Set, Appliques, Handmade
Here is a set. Overalls Sam and Sunbonnet Sue hand stitched in felt with embroidery floss trim on Sunbonnet Sue.
Using the vintage patterns listed in my etsy shop.
Overalls Sam is 10-1/2" tall and 5 inches wide
Sunbonnet Sue is 10 inches tall and 7 inches wide (dress flair))
I came across some camo felt in my stash and thought, I will make camo overalls.
Ready for you to applique onto a pillow, tote or whatever.