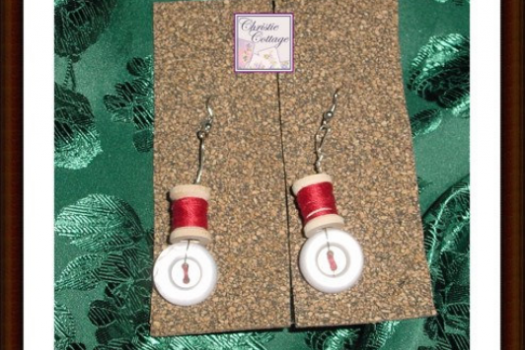 Earrings - Miniature Spools - Buttons - Pierced - Dangles - Red
Here's an adorable pair of earrings for the lady who loves to sew. A conversation starter.
Made with miniature thread spool and a 1/2" button and red embroidery floss (from my Grandma's sewing kit). Silver wire and silver tone ear wires.
3" long
OOAK
Inspiration/Story Behind This Product
I had these miniature spools left from an old project and thought what cute earrings they would make.
Materials Used
Wooden miniature thread spools, embroidery floss, wire, buttons, adhesive, ear wires
Product Attributes
Primary Material: Wooden spool, buttons, ear wires
Size: Medium
Pattern: Spool of thread
Color: Red